Our Process
Your One Stop Shop for
Homes on Lake Martin
At Legacy Homes we take the hassle out of building your dream. From site selection to final inspection we are your one stop shop for a custom dream home. Our team will sit down with you and explain the process and walk you through everything you need to know about completing the project on time and within budget.
Selecting the
Perfect Home Site
As a preferred builder with Russell Land On Lake Martin,we will help you find the right development and lot for your family. For many that's the Ridge and the Willows. If Russell development isn't for you, No problem- we can help you locate a lot anywhere on Lake Martin.
Home Design
From the Ground Up
We will consider every detail of the terrain to design a home of your dreams. Where to place your home in the perfect location to optimize for lot level, how to take advantage of lot features and integrate the house into the terrain.
Before You
Build
As a team, we will help you create and design along with our architects, who will help in the process of making it come to life on paper. This way you can enjoy the home building experience with confidence and ease.
Building your
Dream Home
Legacy Homes is with you all the way! Our team of craftsmen pay attention to every detail to bring your home to life.
Our
Process
We will help you create and design. Our architects will put their touch on it and bring it to life on paper.
Our Story
Legacy New Homes LLC has been building Beautiful lake homes
at Lake Martin, in Alabama, for many years.
Since the early 2000's, Legacy has been building custom lake homes on Lake Martin. Owners, David Chancellor and Corbin Bartgis have over 40 years combined expertise in building. Many of our Lake Martin homes have been awarded notoriety and been featured on magazine covers and in publications. The Legacy New Homes motto is "if you can dream it, we can build it." Our motto has inspired a number of families to pursue special or unique projects with us. The Legacy Team builds everything from small unique homes, to 20,000 plus feet luxury lake homes. Legacy is also an approved Builder in other non-Russell owned developments all over Lake Martin.
Learn More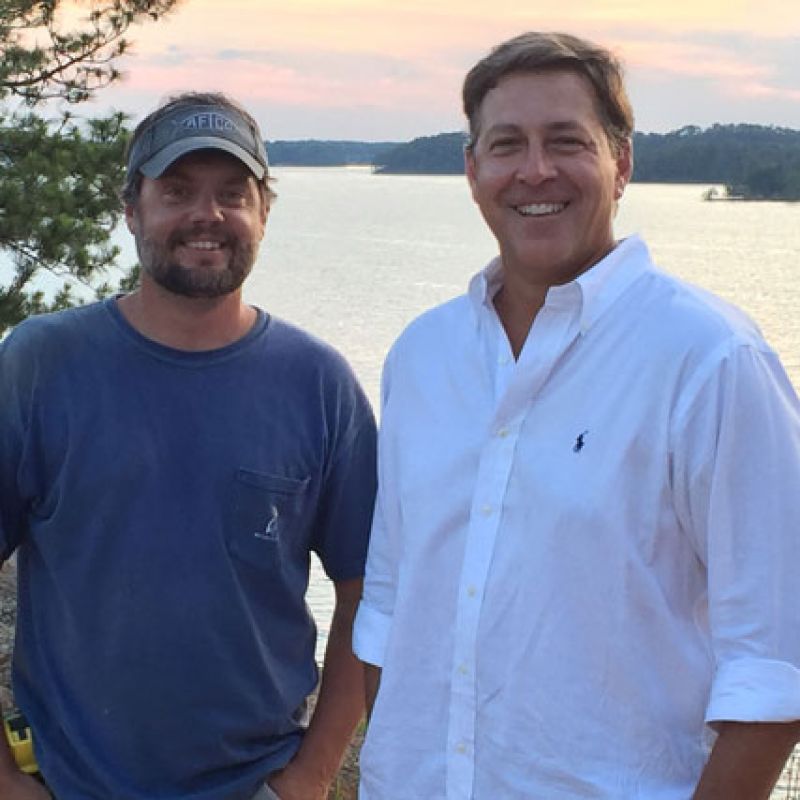 Testimonials
What can Greg and I say but thank you! Thank you for making the process of building a lake house enjoyable. You all guided us through each step smoothly and worry-free. Both of you were available when we needed, sound, professional advice. We also appreciate you thinking of us during the holidays, not once, but twice! The goodie bag and watercolor painting of the new house was such a thoughtful surprise. We can't wait to hang the painting. It is simply gorgeous! ALSO, the jams and salsa from a local Lake Martin business are so tasty. The honey is one of our favorites. You all are truly amazing! Thank you isn't enough, but Greg and I wanted you to know how happy we are to have you all. The next time we are at the lake house, we would love to have you over to celebrate.
Melissa and Greg
Begin to Plan Your
New Dream Lake Home.